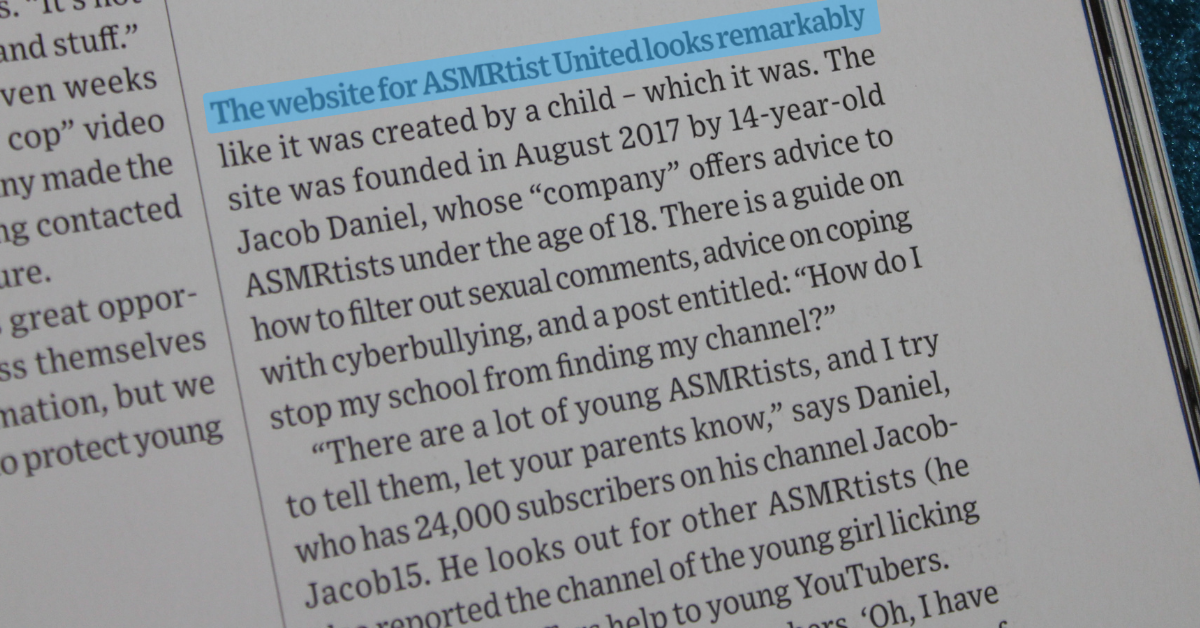 In October 2018, JacobJacob15 ASMR, President of ASMRtist United, and MommyMommy15 ASMR were contacted by the marvelous Amelia Tait, an Internet Culture journalist from the UK, to request an interview with us, and we happily accepted! Here is an edited version of the article that just shows all of the parts that mention us, but, you should definitely check out the original article here! Also, Kelly and Aoki refer to two other Kid ASMRtist, Life with Mak and ASMR Toddler. The article is also being published in the March/April edition of the print edition of WIRED magazine!
The website for ASMRtist United looks remarkably like it was created by a child – which it was. Founded in August 2017 by 14-year-old Jacob Daniel, the "company" offers advice to ASMRtists under the age of 18. There is a guide on how to filter sexual comments, advice on coping with cyberbullying and a post entitled "How do I stop my school from finding my channel?".
"There a lot of young ASMRtists and I try to tell them, let your parents know," says Daniel, who has 24,000 subscribers on his channel JacobJacob15. Jacob looks out for other ASMRtists (he also reported the channel of the young girl licking lollipops) and offers help to young YouTubers.
"Someone told one of our members, 'Oh, I have your address, I'm going to give it to a bunch of paedophiles,'" Daniel says. "This member called me crying and sobbing and I felt so horrible." The child told his parents about the threat and gave up making videos.
"I know I'm only 14," Daniel says, "but we have strict, strict rules. If we get a report on anything, we report it to the National Center for Missing and Exploited Children. We have a sheet of all the contacts… I've been on YouTube since I was about five. I've got a lot of hate comments so I know how to handle everything."
Daniel's channel is full of disclaimers. Under all of his videos are the words "Account Monitored and Managed by Parents", which he says he wrote to avoid hate comments.
"He does things with the computer and editing that I know nothing of," says Daniel's 53-year-old mother, Parker Prunkl, with a toothless grin. "I know Microsoft Word and Excel but his editing… I think he'll grow up into the film industry."
Although Prunkl is proud of her son and helps him film videos and buy props, Daniel still seems very much in charge. When I first emailed Prunkl to set up an interview with her son, she was polite and excited. Daniel later confessed he was actually the one who responded to my email.
Jacob Daniel is clearly a savvy child – although excitable and eccentric, he talks soberly about safety on YouTube, clapping his hands as he tells children to "be, be safe". He tells kids to use fake names, access their email with VPNs, and avoid making custom Skype calls with viewers. For all his intelligence, however, Daniel is still a child. He and Prunkl show off a series of wigs they play with at home – he dons a purple one with red horns; Prunkl shows me her doll. They talk excitedly about the pranks they play on the public, wearing the wigs to order food in take-away shops.
"I didn't know he was gonna have a channel this big, I thought it was a phase or a little bit of a hobby," Prunkl says. "This is a whole new world to me, the ASMR thing – to tell you the truth I didn't know what it was and he kept explaining it to me until I figured it out."
Daniel and Prunkl might have it figured out but, like Makenna Kelly, they still experience troubling comments. An older man sends Daniel letters and once drove past him on the street and shouted at him. Prunkl describes the man as "fixated".
"In one letter he made a stylised JacobJacob15 ASMR logo and I looked a bit closer and I found out he took my channel name and basically put it on a swastika," Daniel says. "And he said he was sending me a motivational armband. Now I know a lot about history, and I know who had motivational armbands."
Daniel and Prunkl keep a folder full of this man's transgressions and have notified the local police. "Sometimes it scares me," Daniel confesses, quieter now. "It does scare me that this guy could be anywhere." Similarly, Makenna Kelly fears that kids at her bus stop will follow her home and leak her address online. "I just go down to the clubhouse and wait ten minutes just to make sure nobody knows where I live."
For these families, this is just another part of YouTube fame. "Him doing these videos, he's putting himself out there. You're gonna expect some people to do things if you're putting yourself out there," says Prunkl, "no different from a singer or a movie star."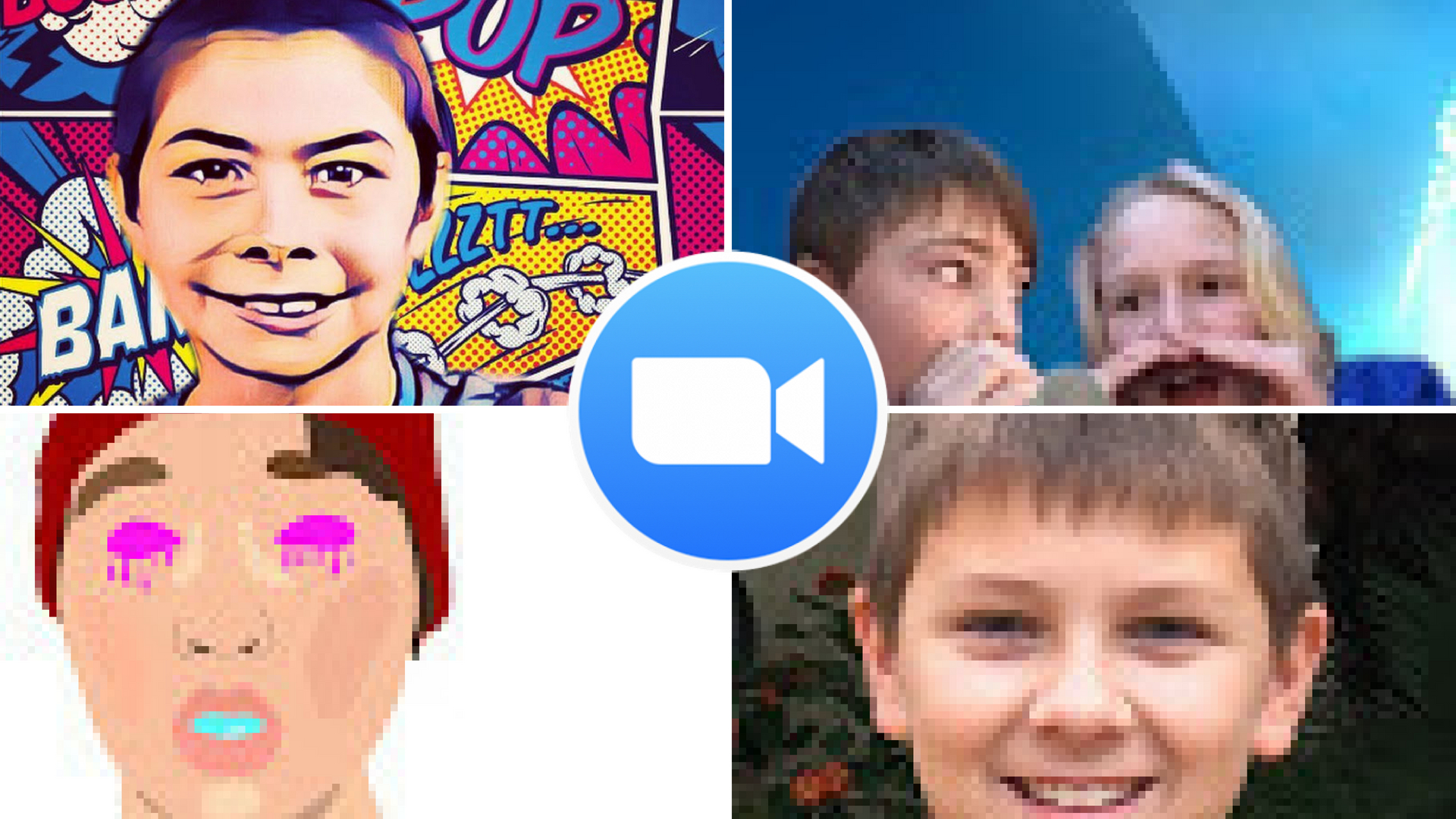 Have you ever been in bed and thought "I Wonder what happens in an ASMRtist United video call?And you've probably thought it goes something like this.
Jacob: OK, everyone ready?
Rasmus: Ready!
Evan: Ready!
Clout: Wait what? Sorry I Was playing Ping Pong and uh something happened to the ta…. (Its an inside joke) Yeah ready!
Jacob: Ok on 1, 2, 3 TINGLES!
Evan: Breattttthhhhhhhhhhhhhhh
Clout: Skeptical, Skeptical, Skeptical
Rasmus: *Tapping on Ikea Furniture*
Well not really, We don't tingle each other to sleep, Its the exact opposite of that!
Basically, We look up each other, makes memes of each other, go through our Twitters or Instagra's, Talk about NiteFort, Or Fortnite, or whatever Games you whipper snappers are playing.
And, Luckily during a late-night 2 in the frickin' morning Video Call, Rasmus from ASMR Friends accidentally had a screen recorder recording the call.
And, It was then edited and posted to YouTube for you to enjoy!
So Enjoy!
The video referenced in this post has been privated and is no longer viewable. Sorry!
You're traveling through another dimension,
a dimension not only of sight and sound but of mind;
a journey into a wondrous land whose boundaries are that of imagination.
Next stop . . . the Twilight Zone!
This Story takes place in a little part of the Internet, More Specifically, YouTube.com and Even more Specifically, The Genre of ASMR, Even More, Specifically AGAIN, The Sub-Genre of Kids ASMR, Two Kid ASMRtist, Andrei, and Sparkling both have 1 thing in common, Their channels and videos have disappeared like the Sunset at Dusk, But Why and How?
ASMRtist United received a Contact Submission from a Viewer named Trevor yesterday asking What Happened to Sparkling ASMR and Andrei ASMR, So here is the Answer!
Sparkling ASMR quit making ASMR videos and abandoned his channel because his School found out and bullied him about it on Social-Media
Andrei ASMR didn't quit like Sparkling did, His channel was Terminated, He has another Channel: https://www.youtube.com/channel/UCCcAfasZuqLY9XRvwYXl2Uw
But, He has not posted any ASMR on it at the time of this Post.
If you have any Questions regarding Current/Former Members of ASMRtist United or just anything else you'd like to talk to us about, You can submit through our Contact page!
Welcome, ASMRtist United Members and Viewers! You have found our NEW Website! We've decided we needed a New Website, So I (JJ15 ASMR) bought a Domain and Hosting. Now we look professional! (Even though we're just a bunch of kids) Stay Tuned!